When Alessia McCaig (Jenkin 2021 and School Vice Captain) was in her Adelaide homestay hoping for a phone call to confirm her selection for the 2022 Commonwealth Games cycling team, she was so nervous she decided to douse herself in a refreshing shower. No sooner had the water begun to wash away her nerves, did her phone ring. She sprung out of the shower like a cat to receive the good news that she was going to Birmingham.
"I was basically in shock when I took that phone call," Alessia said.
"Going to the Commonwealth Games is the stuff of dreams, so it was a very surreal moment, and I don't remember saying much on the phone other than thank you.
"I rang mum and dad straight away with the news, however, we had to keep my selection quiet for three weeks while a whole lot of administration took place.
"My brother was the next person to know I was going to the Commonwealth Games and then when it was publicly announced, my phone exploded," she said.
Alessia is part of the Australian Cycling Team, training at the Australian Institute of Sport. Along with her Australian teammates, she is based in Adelaide because Canberra (where the AIS is based) does not have an indoor velodrome. In Birmingham at this year's Commonwealth Games, there were five athlete villages. Four of these were in and around Birmingham and one was in London where the velodrome was located and where cyclists from all over the world congregated to compete in the various Commonwealth Games cycling events. Alessia describes the cycling community;
"All cycling competitors were in the London village in a really nice hotel, which was part of an enormous Westfield complex.
"Because of COVID we had individual rooms with an enormous king size bed, so that was pretty nice.
"Each country basically occupied a different floor of the hotel and there were not enough rooms for our coaches who had to stay in another hotel. It probably wasn't ideal, but the reduced scrutiny was appreciated by the athletes!
"There was a degree of comfort knowing that everyone you bumped into at the hotel was a cyclist and on a similar journey to your own. One of the most memorable nights was playing an international game of Uno with cyclists from all over the world," Alessia said.
The COVID situation in Birmingham during the Games was not a defining feature of the athlete's experience, but there were testing requirements.
"We had to register a negative COVID result seven to ten days before departure, 72 hours before arriving in the village and then again upon arrival at the village.
"After that, we were only required to COVID test if we developed symptoms, similar to the current situation in Australia," she said.
Food in the athlete village is sometimes legendary at Commonwealth and Olympic Games and Alessia said the daily spreads were impressive.
"We had buffet-style meals to suit all nations. Cyclists came from the African and Indian continents, and from all over Europe so there was food to suit all cultures.
"All meals were buffet style but if we were at the velodrome at lunchtime, we packed food from the buffet and took it with us so it wasn't entirely glamorous!"
Alessia is not on a particular diet to suit her training and competing, but she is well educated in what works for her and conscious of eating well.
"I make sure that I eat a lot of carbohydrates, veggies and plenty of protein. I basically try to make sure I have a balanced diet.
"We have a nutritionist who oversees the athletes' diet and gives advice. She is very good. She spoke to me a few weeks before the games and diagnosed that I was not eating enough which was evident from my recovery and sleep patterns. She got me back on track in time for the Commonwealth Games," Alessia said.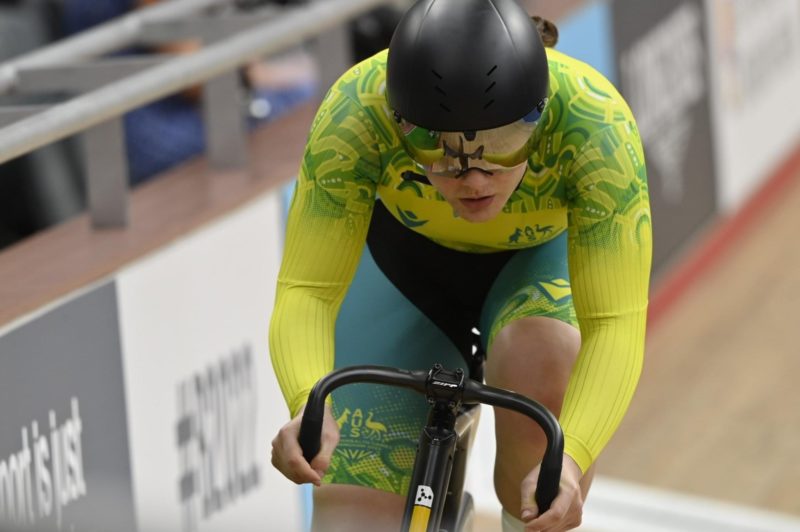 At the Birmingham Games, Alessia competed in four cycling events, all in the velodrome. The Team Sprint (three riders on the track at the same time); the Individual Sprint (a three lap 'cat and mouse' race with two riders on the track); the 500 m time trial (one rider on the track completing two laps from a standing start as fast as possible) and the Keirin (a six lap race with riders following a pace car for the first three laps, then sprinting the next three). The 500m time trial is Alessia's favourite event and the occasion in Birmingham in which she achieved her best result, placing 8th.
Her Commonwealth Games debut moment was in the Team Sprint, where she was the first rider for her team.
"My heart rate was really high and I was just trying to breathe normally. I was super nervous.
"It's not actually the most nervous I have been in my cycling career. That moment was at my first international event a few months ago, the Nations Cup in Glasgow. I saw myself on the big screen as I lined up for the start and went to water. I think it's the reality of the moment reflected so dramatically back at you that got me. It's a big enough moment as it is, without being visually reminded.
"When I lined up again as the first rider in the Team Sprint at the Commonwealth Games, I again saw myself on the big screen. This time, I took a big breath and I was OK.
"The crowd was massive and very loud in Birmingham. After competing, on video I saw the crowd get silenced for the count down at the start of our race. But as soon as you take off, there is a crazy uproar," Alessia said.
When asked if she is happy with all her Commonwealth Games event results, Alessia says "mostly".
"We came 4th in the Team Sprint in a bronze medal ride-off. That was unexpected and a great result.
"I was disappointed with how I rode in the Individual Sprint. My 200m qualifying time was disappointing. I just had to deal with it. I had a bit of a moment and let the emotions out, talked about it and moved on.
"We have good support in these circumstances and trainers to help us move through the process of getting through tough moments.
"One of our trainers saw I was upset. She suggested I go outside and take twenty minutes to process the result. She also made it clear she expected me back at a certain time. I guess she wanted me to reflect, but not wallow in the result.
"I managed to bounce back and got very close to my personal best in the 500m time trial. I was really happy to be 8th in an international field of such high-quality athletes and also pleased to make it through to the finals in the Keiren," she said.
Alessia believes she has learned a lot from being a Commonwealth Games competitor. About track racing, about life and about herself. At just 19 years of age, she believes there is much more to learn.
"I think the biggest lesson from the Games was learning about dealing with emotions. I am totally reliant on my body to perform at my best, but it means nothing if I can't also rely on my mindset.
"My race tactics have been honed and I've learned more about how to go about setting and achieving goals now that I've done it once at this elite level.
"The thing I am most proud of is my ability to bounce back. You don't really know you can do it until it happens, so it's not an entirely bad thing to have a disappointing result this early in my international career. Now I know I can bounce back if I have future moments of disappointment and that's really good to know about yourself."
Alessia's next big sporting goal is to represent Australia at the Olympic Games in Paris 2024. She says it will take her current amount of commitment, and some. With at least three gym sessions each week of two-hour duration and three track sessions of three-hour duration, Alessia and her AIS teammates spend approximately 15 – 17 hours training each week in the sport they love.
"It's fair to say I am often tired! We do have a lot of time on the weekends to chill out and that usually includes a low-key road ride that takes in a coffee shop or two.
"I really like Adelaide. I am living in my own little rental place now, in the northeast in a suburb called Campbelltown.
"Cycling is basically my full-time priority right now, and the AIS provides a basic income to cover living expenses. They also provide all of the cycling equipment that the team uses, and the AIS has some sponsors, so we get various sports food, clothing and other benefits from the sponsorship.
"I am also studying on the side. I am doing Health Science online at Charles Darwin University, which is a pathway into chiropractic studies. I hope to get into the Australian Chiropractic College.
"I am still in contact with Girton friends – Ingrid, Tom and Erin are all in Adelaide so that's fantastic.
"It was quite an adjustment moving out of home and I found it quite difficult at first because I am very family oriented. It's better now that I have my own space and routine," Alessia said.
The Sports Excellence Programme (SEP) at Girton can accommodate elite athletes by allowing their training and recovery to be time-tabled into their week and Alessia said it was a huge benefit to her to have completed the programme while at Girton.
"I did the SEP right through to Year 12. Mr Smalley was fantastic, and Mr Furphy was a big support.
"The programme allowed me to do my training at school rather than having to do it at home, therefore, I could spend more time studying. Recovery sessions at school were useful after competing.
"There was flexibility too, so if I did not have training during a particular day or I needed to catch up on a SAC I could study during my SEP time.
"I would highly recommend doing SEP in Year 12 to any Girton athletes competing at a high level.
"I am a Girton 'lifer', having attended the school from Prep to Year 12. The school has always supported my sporting pursuits. I feel like the school was loyal to me.
"Girton taught me life lessons that I can take into sport, and life outside of school. I am very grateful to the school and the teachers for being there for me," Alessia said.