YOUR LARGEST GLOBAL NETWORK
Class of 1990: Thirty+ Year Reunion
The Girton Grammar Class of 1990 and those who would have graduated in 1990 are warmly invited to the Brougham Arms in Bendigo for a night of friendship and fun. The event was originally set for Saturday 5th June, however with Victoria's snap lock down the week of the reunion, we have now rescheduled to Saturday 7th August.  Finger food will be served from 6.30pm until 8.30pm, after which time you are welcome to remain at the venue and enjoy each other's company. Date: Saturday 7th August, 2021 Time: 6:00pm til late Cost: $35, drinks at bar prices Booking Details: www.trybooking.com/BQHFF
Class of 2001: Twenty Year Reunion
The Girton Grammar Class of 2001 and those who would have graduated in 2001 are warmly invited to the Brougham Arms in Bendigo for a night of friendship and fun. The event was scheduled to occur on Saturday 5th June, but with Victoria going into lockdown prior to the event, has now been rescheduled for Saturday 7th August at 6.00pm.  Finger food will be served from 6.30pm until 8.30pm, after which time you are welcome to remain at the venue and enjoy each other's company. Date: Saturday 7th August, 2021 Time: 6:00pm til late Cost: $35, drinks at bar prices Booking Details: www.trybooking.com/BQHEZ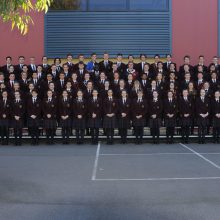 Class of 2015: Five+ Year Reunion
The Girton Grammar Class of 2015 and those who would have graduated in 2015 are warmly invited to The National Hotel in Bendigo to attend their Five Year Reunion for a night of friendship and fun. The event will be held in The Courtyard room at 6pm on Saturday 14th August. Date: Saturday 14th August, 2021 Time: 6:00pm til late Booking Details: www.trybooking.com/BSFYF
Standing Ovation for Co-curriculum Pioneer
In December 2020, the Old Girtonians' Association was delighted to bestow on Mr Dan Slater, an Honorary Associate Life Membership for achieving twenty years of service to Girton Grammar School. It is in many ways thanks to the work of Dan Slater that the Girton Co-curriculum sits comfortably alongside the Curriculum as one of the School's pillars of strategic intent. As the Head of Co-curriculum for twenty years, Dan has been instrumental in the evolution and growth of the Co-curriculum programme, helping to ensure that participation in Co-curriculum is at the core of every Girton student's education. Under Dan's leadership, the Co-curriculum programme is comprehensive and extensive. It has influenced the School culture in many ways. The provision of such a broad range of activities means that every student finds their place within the School, supporting a culture of diversity and inclusion. Dan has always been an advocate of the House system and the Co-curricular programme combining to make Girton a great place to teach. He believes that under this system students and teachers work more as a team when they have the opportunity to interact outside of the regular classroom environment. Dan is known for empowering those around him. He is a sounding board for many colleagues, always willing to listen and a frequent source of safe advice. Dan encourages people to take opportunities as they arise and supports individual growth in his students and colleagues. Aside from overseeing the Co-curriculum, Dan is a highly valued member of the Physical Education Department and was the Head of Physical Education from 2001 to 2007 as well as the Head of Outdoor Recreation (V.E.T.) from 2001 to 2007. With an obvious passion for Physical Education, Dan has a love of teaching that has spanned his entire career. It is well known to Dan's colleagues that his favourite part of any week is when he is teaching, demonstrated by his enthusiastic and energetic approach. Dan is interested in students' hobbies and passions and encourages students of all abilities to have a go. He is known for inquiring about students' upcoming weekend of sport and following up on results, showing a genuine interest and level of care for students that has provided generations of Girtonians' with confidence and positive reinforcement for participation. Dan's love for Year 9 Dance classes in the Physical Education curriculum is somewhat legendary. For many years, Dan has organised the Girton Swimming, Athletics and Cross Country Carnivals, which have become cultural beacons on the annual School calendar of events. These events have become a fine example of the standard of event that sets the School apart, forming a memorable part of every student's Girton journey that is fondly remembered well after graduation. Under Dan's stewardship, Girton has developed a successful representative Senior School sports program in the Sandhurst Division and ICCES sports events, allowing students to compete proudly for their School. The Sandhurst and ICCES Sports Co-ordinators regularly seek Dan's advice, and he is a highly regarded member and unofficial leader within these sporting associations. In recent years, Girton has joined the School Sports Victoria programme of sporting events providing yet more opportunities for Girton athletes to compete at the highest level. At various times, Dan has been the MiC of numerous activities, some of which are Athletics, Cross Country, Cricket and Equestrian, rounding out an incredible sporting and leadership contribution to Girton Grammar School. Those close to Dan enjoy his dry humour and benefit enormously from his generous spirit, his knowledge, and his caring approach. Mr Dan Slater, for twenty years of outstanding service to Girton Grammar School, we thank you and wish you luck in your retirement.
Putting A Smile On The Dial In Bendigo
After completing a five-year Bachelor/Master's degree in Dentistry, (with the highest weighted average mark across the entire course for her graduating class), primary examinations with the Royal Australasian College of Dental Surgeons, and finally, a Doctor of Clinical Dentistry degree, specialising in orthodontics and achieving first class honours, Bethany Cunning, is well qualified to change people's lives. Bethany graduated from Girton in 2009 and is a firm Frew loyalist. Because she was unsure what to do when she left school, she covered all bases in VCE studying, Specialists Maths, Math Methods, Further Maths, English Language, Biology and Chemistry. This broad Maths/Science base served her well and led to undertaking a five-year dentistry course, which she was sure at the time would be quite enough study to sustain her career. "The idea of adding the primary examinations at the Royal Australasian College of Dental Surgeons and then another three years of specialist training at Melbourne University on top of dentistry never even crossed my mind to begin with. "But I soon discovered that I loved the orthodontic component of my undergraduate degree and with some encouragement from lecturers and others, the idea of pursuing specialist training came to be. "Looking back now it has been a lot of hard work and sacrifice and I owe a great deal to my husband, parents and family for supporting me along the way. "I'm grateful that I was able to undertake my specialist training as I love being an orthodontist and am looking forward to a long career of creating smiles patients can be proud of!" Bethany said. Bethany grew up on a farm near Swan Hill and then schooled, lived and worked in Bendigo. She has recently returned to Bendigo and says it is exactly where she wants to be. "I understand the struggles that arise for regional people when access to specialist providers is limited. Being able to return and provide such a service is really rewarding and something I'm proud to be able to do. "Last year I set up my own specialist orthodontic practice Bendigo, called 'Central Victorian Orthodontics'. The clinic fit out was recently finalised, and we have started welcoming patients." Opening her own clinic has been a long time in the making. After graduating from her undergraduate degree Bethany worked as a general dentist in Bendigo, having spent a large amount of time working as a student in regional community dental clinics, such as Mildura, Wodonga, Melton and Bendigo. It was during her post-graduate studies, that her desire to become an orthodontist was truly cemented in her mind and her motivation fuelled. "I worked as a student orthodontist at the Royal Dental Hospital of Melbourne, the Melbourne Dental Clinic and the Royal Children's Hospital. "Upon graduation as an Orthodontist, I was able to secure a part-time position at the Royal Dental Hospital of Melbourne. To be eligible for treatment there, the misalignment of a patient's teeth must meet a certain level of severity, which understandably results in challenging and complex cases. "It is very rewarding work, especially when you get to see the difference treatment can make to a patient's confidence and quality of life." Reflecting on her time at Girton, Bethany was grateful her teachers equipped her with the skills needed to pursue further study. "In terms of memorable Girton teachers, the first that comes to mind is Mrs Ryan. Even though I didn't particularly enjoy Chemistry, her enthusiasm and support in the classroom was incredible! "Her energy seemed to rub off on us students and certainly made Chemistry lessons much more enjoyable. She just seemed to go above and beyond to help us achieve our best and I've never forgotten her efforts. "Mr Jones was also hugely influential in his overarching role as Head during my time at Girton. "I really admired the effort he put in to remembering students' names and making us feel valued. He also taught us to take pride in ourselves and who we represent, even if that starts by simply tucking in a shirt! Bethany agrees that a surprising benefit of having attended Girton is that she married Callum Gordon, also a 2009 graduate. Together they have built a house, sold a house, traversed the Simpson Desert, driven the Savannah Way and crossed the Nullarbor. But for now, they are enjoying settling back into life in Bendigo and being near their families again. For more information about Bethany's clinic, Central Victorian Orthodontics, go to: www.centralvictorianorthodontics.com.au Bethany and her husband Callum Gordon (Millward, 2009) Bethany setting up her new Orthodontics Practice in Bendigo Bethany with her parents, Robert and Kathryn Bethany travelling to Kakadu National Park
Grounded Pilot Temporarily Charts a Different Route
Zac in the cockpit of an A320 If you have wondered what pilots have been doing through the Covid-19 pandemic, consider Zac Clarke's story and wonder no more. But let's start from the beginning. Zac was in Riley house and attended Girton from Years 7 to 12, graduating in 2011. In Year 12, he studied English Language, Further Mathematics, Mathematical Methods, Physics, Japanese, VET Electrotechnology and VET Music Industry. After graduating, Zac commenced training as a Jetstar Cadet in Hamilton, New Zealand, where he lived for 18 months before moving to Southampton in the United Kingdom to finish training. Zac says that the study never stops for pilots because the average jet aircraft is made up of over three million parts. "Further study is not purely academic because of the practical nature of the piloting profession. My industry experience includes holding the highest licence available for civil aircraft and endorsements on the Airbus A319/A320 and A321 aircraft. "Unlike many professions, airline pilots are constantly examined. On average, we have eight assessments a year, and each time, our licence is on the line. "My aviation experience equates to an undergraduate degree level and allows entry to a Masters of Aviation (Management), which I would like to complete in the future," he says. Zac says that many Girton teachers influenced his educational journey academically and, just as importantly, outside the classroom. "Mr John McMillan instilled in me a love of Frank Sinatra and the associated wonders of the Theatre Technicians Co-Curricular. I am forever grateful for John's impact on my time at Girton, many of the skills I learnt from John I still use daily in the aviation industry. "Mr Andrew Lorincz always provided excellent tutelage and steered me through the ebbs and flows of Senior School, and Ms Motoko Watanabe opened my eyes to everything Japanese. I will always remember her patience and caring nature, and I frequently draw on her lessons during my travel to Japan. "Mr Graham Crickmore guided me through the Gold Duke of Edinburgh program and numerous hikes and camps. Graham's sense of humour and adventure was always welcomed, providing a unique perspective on life at Girton," Zac recalls. Zac and Amy at the Christmas Markets in Prague, Czech Republic on one of their holidays. Until April 2020, Zac worked exclusively as an airline pilot with Jetstar, operating domestic and short-haul international operations throughout Asia, New Zealand and the South Pacific. He also founded a company called "Sky Soles" and leveraged his family's textile industry experience to design and export footwear to airlines and airline crew worldwide. "Ron Clarke & Sons is a family business that now spans three generations. The footwear business now incorporates footwear design, development and wholesaling, which it has been doing since 1972. "Growing up with a family footwear business, I have vivid memories of thousands of shoes covering Dad's car and our family home. Unlike most fashion industry products, footwear has a critical role in general health, and I am passionate about producing the perfect footwear for people working in the airline industry." The COVID-19 pandemic hit the airline industry like a bolt out of the blue, and Zac says that within days, he witnessed passenger load factors drop by over 95%, and then the inevitable stand down letter arrived only weeks later. "In July 2020, I was fortunate enough to secure employment with the Victorian Government operating a quarantine hotel with many of my aviation colleagues. It has been an incredibly rewarding experience serving and protecting the Victorian community during the pandemic. "I count myself extremely lucky because many close friends are now unemployed or experiencing long term leave without pay. "Only recently have I returned to the skies at Jetstar, albeit in a limited capacity." One of the benefits of being in the aviation industry is abundant opportunities to travel, and Zac has taken full advantage of being a pilot. "I have had the fortunate opportunity to travel to over thirty countries. Some of my travels include accidentally attending Carnevale in Venice, a trip to Russia for the most recent FIFA World Cup and falling down black ski runs as the child ski school effortlessly passed me in the Swiss Alps. "Over the past few years, I have been commuting between Australia and the United Kingdom every 6-8 weeks to see my partner, Amy, in England. "Amy has since migrated to Australia, and we are now settled in the northern suburbs of Melbourne. We are both looking forward to the borders reopening to utilise one of the perks of my job, discounted flights, and to see Amy's family in Northern England. "One of the joys of aviation is that you never really know where it's going to take you. I have several friends living and working worldwide in places like the Middle East, Europe, Japan, Hong Kong and New Zealand. "Alluring as all of these destinations are, I always intended to move home to Victoria eventually," Zac said. Captain Mike Dixon and Zac after completing a maintenance Ferry Flight into a corporate Jet Base, 'Seletar' in Singapore.