If she were an Olympian, Emily Griffin (2011) would be a triple gold medallist, having received 3 scholarships to La Trobe University in Bendigo before even setting foot on campus.
Emily has just completed her third year of a Bachelor of Pharmacy at La Trobe University. In her final year, next year, she will complete Honours before starting an intern in 2016.
But even before all of that, Emily will travel to the South of India this December for two weeks on yet another scholarship with the La Trobe University Pharmacy Department.
Emily says that she was keen to stay in Bendigo once she graduated from school and she knew she wanted to study a Bachelor of Pharmacy. You get the feeling when talking to her that when she picks a charter, she sticks with it, being now fully immersed in the world of pharmacy.
"I have been involved with the Bendigo Association of Pharmacy Students (BAPS) at the university, including roles as the year level rep.
"I was also the Social Chair for the Bendigo Pharmacy Congress Organising Committee (BCOC) which is a week-long annual National Australian Pharmacy Student Association (NAPSA) conference for approximately 300 pharmacy students from across Australia, held in a different city each year.
"And, unsurprisingly I work at Emily Robert's Amcal Pharmacy and Chemist Warehouse Bendigo, so it's fair to say I am fairly interested in pharmacy," she said.
Emily says she was lucky to have some great teachers throughout her six years at Girton. Some of her most memorable teachers with the biggest positive impact were Mr Lorincz, Madame Tonkin, Mr Crickmore, Mrs Rankin and Mrs Lister, to name a few.
"There were many inspiring teachers at the school including Mr Jones, who was Headmaster, with his wisdom and inspiring speeches and Mrs McCulloch with her pride and support for the school.
"Mr Montgomery's passion for life, especially anything Canadian, plus his nurturing nature gave Girton a wonderful atmosphere while I was there.
"The abundance of great teachers gave me the drive to do well in school," she said.
Emily said that she spent her 21st birthday this year in London and Nice, having travelled to Europe with university friends, visiting England, France, Italy, Monaco and Greece.
We wish her well with the remainder of her Pharmacy degree.
Pictured: Emily with family at her 21st party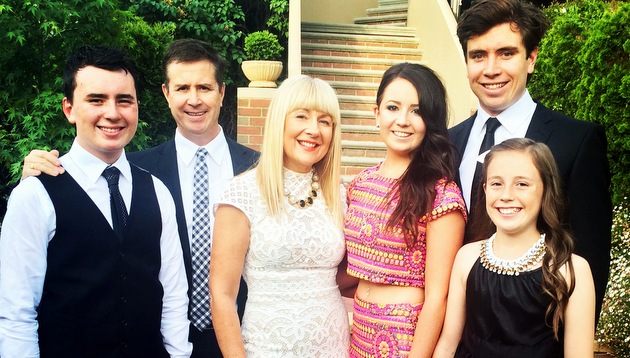 Pictured: Emily (second from left) with friends in Nice