It is not always easy to stay close to your passions when it comes to career, but Damon Lonnie (1989 Head Prefect) has managed to combine his love of golf with his work and is now happily living in Perth with his wife and three children.
Having played golf at the top level of the amateur circuit for a few years, Damon realised he may not make it to the professional level but that managing a golf club would keep him close to his first love.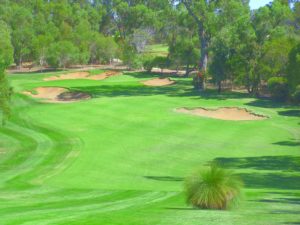 He completed a Bachelor of Business at La Trobe University in Bendigo with a major in Human Resource Management and a minor in Accounting, and was perfectly poised to take on the role of Assistant Club Manager of the Southern Golf Club in Dingley.
He then progressed to General Manager at the Croydon Golf Club and is now the General Manager at the host club for Australia's richest golf tournament, the Perth International, at the Lake Karrinyup Country Club.
"My current role is really satisfying, especially as Lake Karrinyup is regarded highly worldwide with our course ranked number 9 in Australia.
"The Perth International features $2M in prize money so it attracts the best players from all over the world," Damon said.
Damon has also been the President of Golf Management Australia, which has taken him all around Asia and the United States, often speaking at conferences, most recently in San Antonia earlier this year.
"The Presidents role was voluntary but I really enjoyed it. Now I'm keeping it a bit more grass roots and am President of the local junior Football Club (Carine), and I'm thoroughly enjoying the community nature of this role," Damon said.
Damon attended Girton College from Grade 2 where he looks back fondly on Mrs Killeen and Mrs Smith who taught him in Grade 6.
"They were both great teachers and nurturers. I also remember our PE teacher Mr Derek who was very energetic and caring," he said.
Damon met his wife during university and they now have three children, Kara 13, Mitchell 11 and Imogen 7, pictured below.