There is a solidity that is almost tangible when two people who are "childhood sweethearts" come together. Emily Fawcett and Matthew Keech (both Frew 2015), also share a solidarity that comes from sharing responsibilities and interests since being thirteen years of age.
Having joined the ranks of those who postponed weddings in 2021, Emily and Matthew got quietly married on 25th November, sharing the moment with immediate family members in a refurbished 1800's warehouse Airbnb in Melbourne. They will host a vow renewal and reception in Geelong in August 2022, with Old Girtonians amongst the guests.
Emily and Matthew were 'bus buddies' from Year 6, travelling to and from school together and despite being fellow members of Frew, neither envisaged being House mates in more than one sense.
"We became good friends from collective time spent together.
"I don't think people necessarily predicted that we would end up together, it just sort of happened early on (Year 7) and it stuck.
"Being together throughout high school did mean we ended up with the funny couple awards at House dinners including most likely to get married in Vegas," Matthew said.
When asked about the best and worst thing about marrying a school friend, Emily and Matthew concur.
"You always have a friend and someone that has your back through anything. Growing up together means we've been there to celebrate all of the highs and to provide support through all of the lows, we know everything about each other, and we've been through so much together."
Neither can be drawn into speculating on the downside of being childhood sweethearts, not through fear of a shock revelation, just deep-seeded connection.
Emily suffered poor health through much of Senior School, suffering bouts of extreme tiredness and fainting. She finds it impossible to pick her most influential teacher, crediting many for getting her through school, but it was Matthew who was her constant.
"I was continually falling asleep in any place imaginable, even on Matt's shoulder while waiting at the traffic lights to go between campuses!
"I also fainted on stage at Speech Night, which was a lowlight for me. Doctors predicted that I would likely sleep the rest of my life away.
"I was determined to make something of myself and with a lot of support from my family and Matt, I successfully got through high school on 4 VCE subjects.
"Last year, I completed a Bachelor of Biomedical Science (Laboratory Medicine) at RMIT and was amongst the top students in my cohort.
"I never imagined I would be in a healthy enough position to be a full time Medical Scientist performing Covid-19 tests in the laboratory in the middle of a pandemic, contributing part time to research that will make a difference to people's lives while simultaneously doing full time university to complete my thesis.
"Life has taught me that even if plan A doesn't work, you'll get places eventually (and usually the long way around) with plan B through Z," Emily said.
Emily's Plan B is impressive. She is currently a Medical Scientist in the Molecular Microbiology Department at the Royal Children's Hospital. Her role involves preparing and testing samples for Covid-19 and viruses pertaining mostly to children's and women's health. In her spare time, she assists with histopathology research in reproductive medicine at the Royal Women's Hospital and the Department of Obstetrics and Gynaecology at the University of Melbourne Medical School. The research relates to ensuring that childhood leukaemia patients have the option to conceive in adulthood, through gonadal tissue cryopreservation prior to chemotherapy treatment.
Matthew's Plan A, meanwhile, has entailed completing a Bachelor of Exercise and Sport Science at Deakin University (Waurn Ponds) in 2018, then graduating from a Masters of Clinical Exercise Physiology at Deakin University (Burwood) in 2020.
Like his wife, he has a habit of underestimating his future success.
"Back in high school I definitely would never have guessed that I'd be able to complete not only a Bachelor's degree, but also a Master's degree at university.
"I never would have thought back in Year 10 Sports Science that I would get to spend all of my working days doing what I love in a gym helping people learn new skills and change their lives through exercise," Matthew said.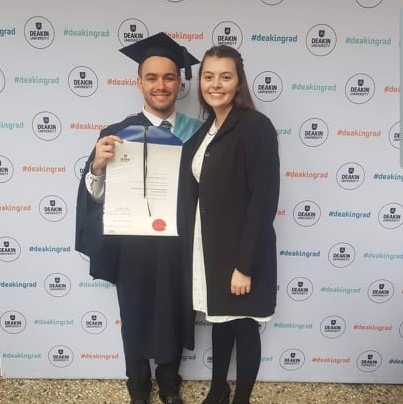 To support himself while studying, Matthew worked in retail and was an athletics coach at Geelong Grammar School. He is currently working as an Exercise Physiologist in private practice in Melbourne.
Reflecting on his time at Girton, Matthew fondly recalls support from one of his favourite teachers.
"Rick McWaters, as a teacher or volleyball coach, was always there to motivate me and help me get through anything I was struggling with academically or personal," he said.
Matthew and Emily have both had adventures and experiences while studying that have shaped their lives together and as individuals. As part of his bachelor's degree Matthew attended a study tour to the UK to visit different universities and research facilities.
"I had the chance to learn from some of the top professionals and experts in the exercise science industry and have been able to implement most of this knowledge into my current role as an Exercise Physiologist.
"After this trip Emily and I spent many weeks travelling throughout Europe, visiting several countries, seeing beautiful places and eating amazing food," he said.
Meanwhile, while studying, Emily volunteered time as a student mentor to help out fellow university students needing assistance with their learning and understanding of course concepts. She also volunteered her time to organise and assist with STEM based learning activities with Year 9/10 students at a local high school in Melbourne, through the In2Science program. She was a state finalist in the awards for my dedication to the program and classroom initiatives to foster STEM learning.
After graduating with high academic results, Emily was selected to attend the International Scholar Laureate Program for Medicine and Science, travelling to China and Hong Kong to compare and contrast Eastern and Western medical treatment, by shadowing doctors at Traditional Chinese Medicine and mainstream hospitals.
Aside from their European travels, together, these Old Girtonians have travelled around New Zealand and the Pacific Islands, and they agree that next on the cards is a trip to Italy for a honeymoon. A house, further study and "a little family of our own" are also on the horizon. From Frew House to share house, to home, we wish Emily and Matthew all the best for their wedding celebrations next August.