The following reflection has been provided by Ms Rosemary Turner, School Captain in 1966 and dear school and lifelong friend of Rosy Rogers, who has two children, Matthew and Kimberley who are Old Girtonians. 
Rosemary was born in Melbourne, March 8th 1948. Her family transferred to Bendigo 1957 where she completed her Primary education at Camp Hill P.S. and attended Girton for her secondary education. (1960 Yr 7 – 1965 Yr 12).
Here she met a number of lifelong friends who shared the tapestry of her life. She is remembered as a fun loving student who participated wholeheartedly in all school activities.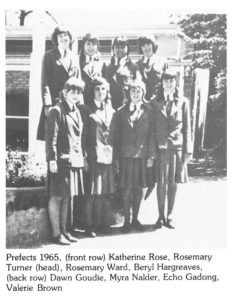 In her final year she was Vice Captain of Aherne House, a Prefect and Social Service Co-ordinator, a foundation that she built on throughout her life.
So neat and meticulous were her handwritten exercise books and diagrams, her geography and biology books are on display in the Girton Alumni Centre.
One remembers Rosy as a mad "Elvis Presley" fan and being besotted by the "The Beatles".
A highlight of her teenage years was being among the throngs of fans chanting "yeah, yeah, yeah" outside the Southern Cross Hotel when the Beatles visited Melbourne.
Rosy did well academically. When she completed her Matriculation Certificate in 1965 she was awarded a studentship to Bendigo Teachers' College where she gained her Primary Teaching qualifications. Her early teaching appointments were at Echuca Village P.S. and Preston East P.S.
On returning to Bendigo after her marriage to Hugh she taught at Comet Hill P.S. where she is remembered as a compassionate and sensitive teacher.
After the birth of her two children she resigned to devote her time to young Matthew and Kimberley who both later attended Girton. Rosy opted for a balanced life involving family life, a part time career, community service, Church fellowship , sporting and cultural pursuits.
Whilst her children were School age Rosy undertook a correspondence course in Librarianship from Charles Sturt University. She worked as a volunteer completing her practical units  in the Girton Library. After gaining her qualification she worked part time in the Bendigo TAFE Library for sixteen years.
Rosy had a fascination with the written word, books and knowledge. A dictionary, thesaurus or atlas were never far away. She loved doing crosswords, word games, quizzes and playing Trivial Pursuit. She was always ready to learn and test her general knowledge. She also loved reading biographies and autobiographies.
Throughout her life Rosy was a great contributor involving "Community Service " activities. These included Meals on Wheels, and forty years service in the Lansell Y Service Club where she held executive positions and excelled as Bulletin editor and secretary.
Rosy had a strong commitment to the Christian faith and being a member of St Andrews Uniting Church, was immersed in associated activities.
Rosy was a proud and loyal member of the Old Girtonians' Association where she was Treasurer for many years. She attended many Reunion Dinners and in October 2015 celebrated her fifty years School Reunion. She was always a willing worker for her School as a parent and as an Old Girtonian.
Rosy shared some wonderful holidays both overseas and in Australia. She was especially loved her family holidays at Queenscliff, loved the beach and loved swimming.
Family and friends have been fortunate to have lives enriched by knowing Rosy. She was a loving, caring and generous woman whose warmth was shared amongst family, friends, colleagues and community groups. She was a great contributor, and accomplished much personally and professionally. Rosy was a well respected lady who will be remembered for her love of colour, her vibrancy, her personal style and flair for life.
Rosy died on July 12th, 2017.